Above all, we keep it green.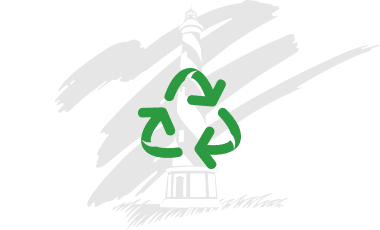 Hatteras is focused on an ecologically responsible and
sustainable future.
We are committed to protecting Earth's vital resources and maintain an FSC® certification, participating in annual audits to ensure compliance. We provide solutions for our clients that utilize paper with higher post-consumer recycled content, as well as paper containing fiber from responsibly harvested forests.
We recycle over 2,000 tons of paper, plates, cardboard, glass and plastics each year. We manage ink consumption by inventory regulation and ink recycling. Hatteras prints with soy-based inks and uses low volatile organic compound (VOC) aqueous coating instead of high VOC solvent-based coatings. All unused aqueous coating is returned to the manufacturer where it is recycled.
11/14

100
As of November 1, 2014, Hatteras has increased its consumption of renewable energy to 100 percent.
We also reduce our electricity consumption by 15% annually through the use of LED lighting within our facilities.
Let's make something incredible