It should come as no surprise that as of 2023, cannabis is one of the fastest-growing industries in the United States. With 88% of adults in favor of legalization, the stigma around the usage of cannabis is beginning to disappear. This means that the opportunities for growth and entrepreneurship are only beginning. 
However, as more companies move into the cannabis space, standing out on dispensary shelves will present more of a challenge for suppliers. Having a high-quality product with a desirable THC potency will help, but investing in custom cannabis packaging that reflects the quality of your product will soon be essential, particularly for pre-rolls.
In an ever-growing sea of options, custom cannabis packaging for pre-rolls has the power to grab the attention of buyers, elevate the experience for your customers, and showcase your brand in a way that is uniquely you.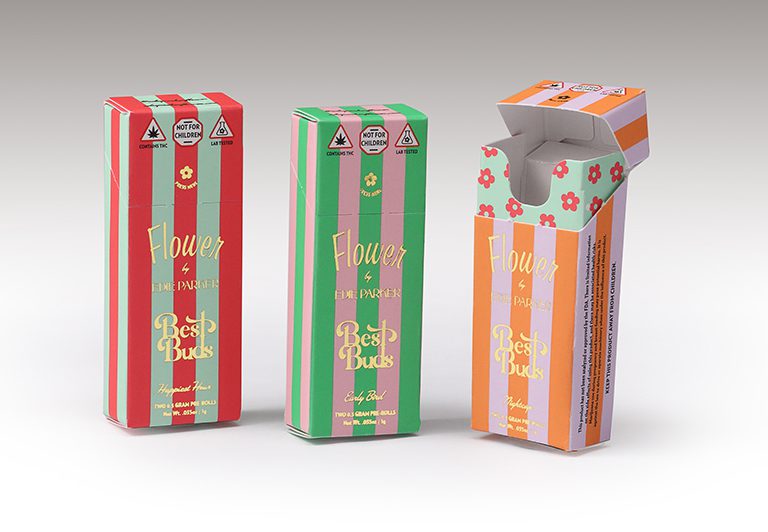 The Attention-Grabbing Power of Custom Cannabis Packaging for Pre-Rolls
Over the course of just four years, pre-rolls went from a 7.9% to a 12.7% market share between 2018 and 2022. Many cannabis customers are finding that they prefer the convenience and ready-to-enjoy experiences offered by pre-rolls. In the younger generations, there is even reason to believe that pre-rolls are replacing cigarettes for some. With this sharp rise in popularity comes the need for brands to find ways of differentiating themselves. That's where your packaging comes in.
Custom cannabis packaging does more than catch the attention of your potential customers while they're browsing dispensary shelves. When the packaging is designed specifically to showcase your product, it brings a sense of luxury and originality to your brand.
By shifting away from traditional, standard packaging options and investing in something customized, you can create a truly unique experience for your customers. Considering the fact that the cannabis industry generally attracts those with "alternative" mindsets, few things will help your customers feel more emotionally connected with your brand than a little unconventionality.
Elevating Customer Experience with Convenience and Portability
Like cigarette packs, custom cannabis packaging for pre-rolls can offer a level of convenience and portability to your product that your customers will thank you for. But it can do more than that, too. When you invest in custom packaging, you can include elements that not only enhance your customers' experience but also actively improve their lives. Think of built-in features such as child-resistant mechanisms, matches, and UV protection to keep the pre-rolls secure and fresh.
If you want to take it a step further, utilizing custom cannabis packaging for your pre-rolls also allows you to incorporate customer feedback. By staying responsive and flexible to customer demands, and keeping an open line of communication, you can learn what your customers would most like to see in your packaging design and work with your packaging partner to make appropriate changes.
Not only will this thrill your customers, but it's a great way to show that you care about your product, your brand, and the people buying from you.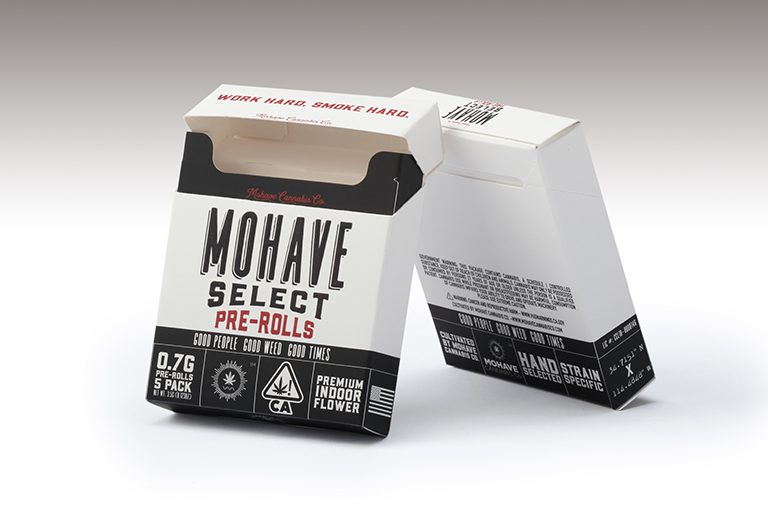 Showcase Your Brand Identity with Custom Cannabis Packaging
By combining attention-grabbing design and prioritizing customer experience, you can start to build a strong and memorable brand that will resonate with your customers. This brand identity can then be reinforced in every facet of your custom cannabis packaging. Through the inclusion of unique typography, engaging aesthetics, and branded artwork, custom cannabis packaging can help you create a brand that is truly iconic.
Beyond this, including messaging and images that align with your brand values and history is an excellent opportunity to deepen your connection with your customers. By letting people know who you are and showcasing your company's commitment to transparency and sustainability, you can achieve the pinnacle of all branding efforts: authenticity.
Stand Out with Custom Cannabis Packaging from Hatteras
At Hatteras, we're committed to providing boutique-style services for all of our customers' packaging and printing needs. With four decades of printing industry experience and capabilities that range from digital and offset print and fulfillment to packaging production, we've learned a few things about delivering high-quality, tailored service.
When it comes to finding the right custom cannabis packaging solutions for your brand, our team of designers will work closely with you to find the style and elements that feel right. Our goal is not just to help you stand out; it's to help you create a beautiful, engaging look that will elevate your brand to mainstay status in the cannabis industry.
Ready to create something incredible? Connect with our team today.