Each year, the Data and Marketing Association (DMA) performs a response rate study comparing the success metrics for direct mail, email, paid search, internet display ads, and social media ads. While it's worth digging-into this data to look at specific results, the proof is clear that direct mail outperforms any other marketing channel in terms of response rates by a long shot.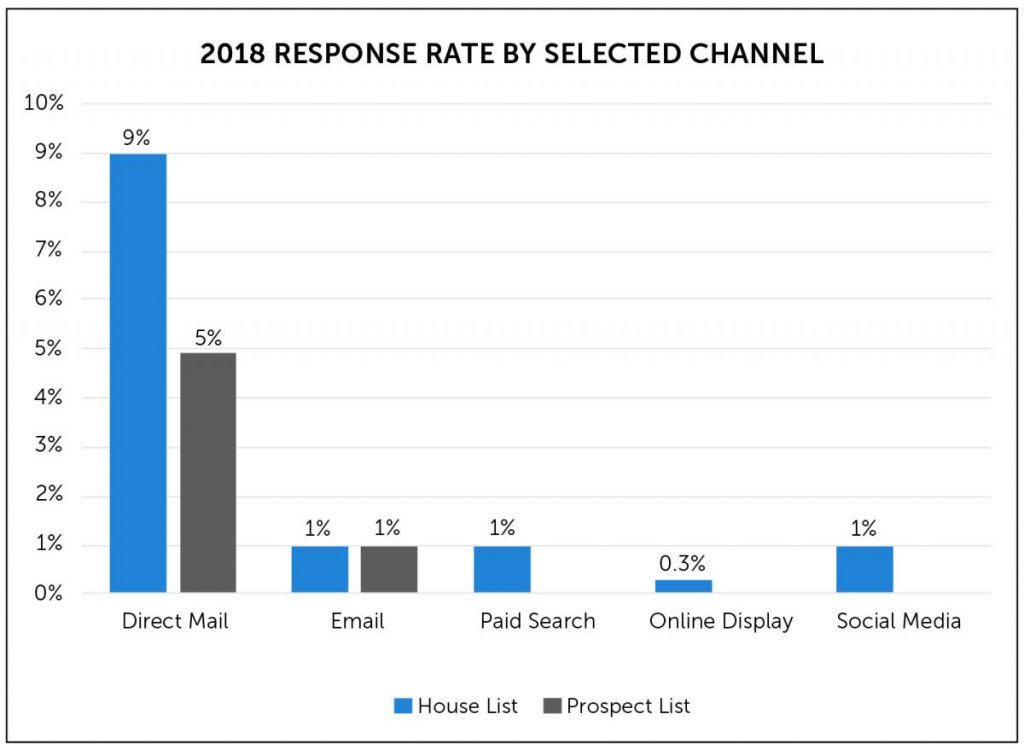 According to the DMA, direct mail has seen significant increases in response rates recently, rising from 3% in 2017 to 5% in 2018 for prospects lists, and from 5% in 2017 to 9% in 2018 for house lists – that's an 80% year-over-year increase!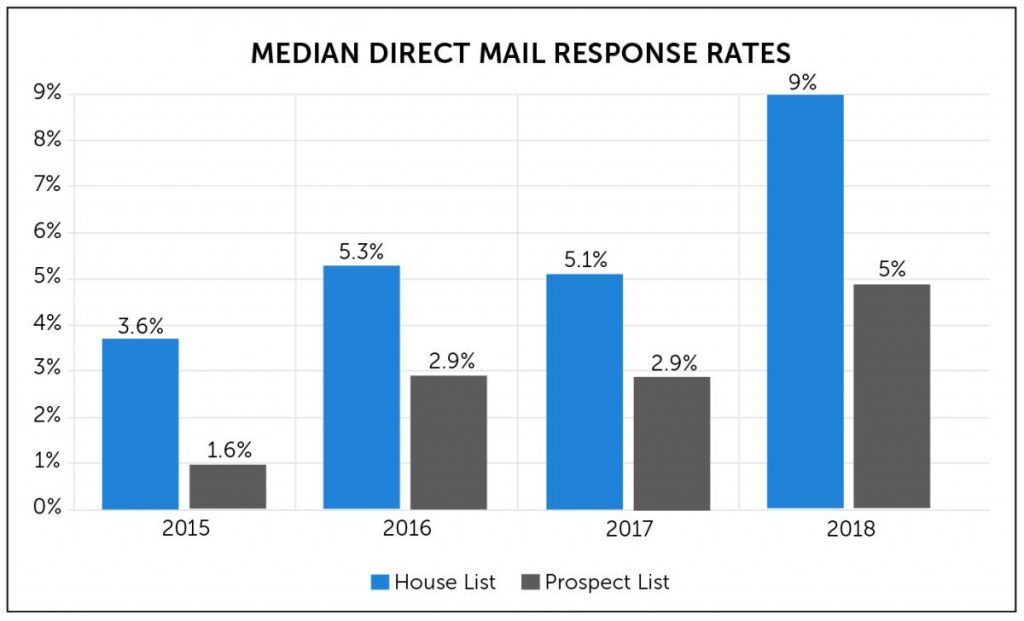 There are several reasons for the upward trend. For one, there's generally a lower volume of direct mail in people's mailboxes. According to the USPS, total mail volume has declined by nearly 30% since 2006. Less clutter means your chance of getting your marketing message noticed goes up.
But, most importantly to note – after several years of focusing on digital marketing, there's an increase in the number of marketers incorporating direct mail into the marketing mix. Here's five reasons why:
Better Digital Print Technology. Advancements in digital printing have opened-up a world of opportunities for marketers to be much more flexible and personalized with their communications.
Better Lists = More Targeted. No longer can you take a 'spray and pray' approach, sending out generic, untargeted pieces that are doomed to produce a low return on investment. Print marketers have become more strategic in their planning with regard to list quality and messaging, making sure to send mail to people who appreciate receiving it.
Better Data = More Tailored Offers. Better data and more sophisticated modeling has allowed marketers to send more tailored offers to both customers and prospects. Using the latest digital print technology, marketers have the ability to marry customer data (e.g. purchase history) with specific content (unique imagery or offers) to create a 100% uniquely personalized piece for each recipient.
Increased Consumer Trust. Digital channels are being viewed more and more with skepticism due to data breaches, spam, and elevated concerns of privacy. In fact, according to a

survey conducted by Marketing Sherpa

, 76% of consumers trust direct mail when they want to make a purchase decision.
Increased Memory Retention. A number of studies have shown that printed communication (compared to digital media) improves comprehension and increases memory recall. The stillness and physical nature of print, along with other inherent qualities, help to create a sensory experience that digital media can never achieve.
Direct Mail as a Part of the Customer Journey
There are undoubtedly more marketing channels available today than ever before. The digital world has created many, new ways brands can communicate with customers or prospects. But this shouldn't cause marketers to discount the importance of one channel over another. Every channel can serve a purpose and be part of a strategic marketing plan that guides a consumer through a holistic brand experience.
The staggering results of DMA's response rate study demonstrate how direct mail can provide a powerful driver of customer engagement, and be an effective complement to digital strategies. In fact, studies have shown that when direct mail and digital campaigns are paired together, response rates increase as much as 118%.
Drive Engagement, Build Trust, and Deliver Results
Whether used as a stand-alone strategy or to complement your online marketing, direct mail is a proven way to get advertising messages into consumers' hands.
At Hatteras, it is our mission to deliver world-class print solutions. Our innovative technologies coupled with our state-of-the-art production equipment helps marketers leverage data and personalization, enabling them to communicate with their customers on a one-to-one basis supported by the tactile benefits of direct mail.
Connect with us
to learn how our team of experts can help you engineer a
direct mail program
that's designed for success and fits your budget.
*Relevant data has been pulled from DMA's 2018 Response Rate Report.