Have you heard about the new service offered by the USPS® called Informed Delivery? Believe it or not, over 20 million consumers have! That's how many have enrolled as of February 2020, and the number is growing daily.
Informed Delivery provides residential consumers with digital previews of their mail before it arrives in their mailboxes. They can log-into their account 24/7 from their computer or mobile device to see what mail is due to arrive and when – or be prompted to do so with a daily email (which is generating a 70% open rate, according to the USPS).

This service has become increasingly popular during the coronavirus pandemic (as seen in the above chart illustrating the popularity of the search term "USPS Informed Delivery" over the past three years, relative to its peak popularity). With stay-at-home orders in place and many companies requiring remote work, consumers are spending more time at home now than ever before and are more attentive to their mail, giving your mail piece a greater chance of being noticed and acted upon. By using Informed Delivery, you can take the consumer's experience a step further by integrating the campaign with their online account.
So, what are the benefits to you, the marketer?
There are many. But first, let's explain the Informed Delivery service a little more. Even if you don't activate an Informed Delivery campaign, recipients of your mail (who have signed-up for Informed Delivery) see a digital preview of your mail piece. However, what they'll usually see is a basic greyscale, scanned image generated by the USPS. If you activate an Informed Delivery campaign for your mailing, you can replace the scanned image with a much more colorful and compelling 'representative image', as well as an interactive 'ride-along image' and campaign URL that links recipients to your website or special landing page.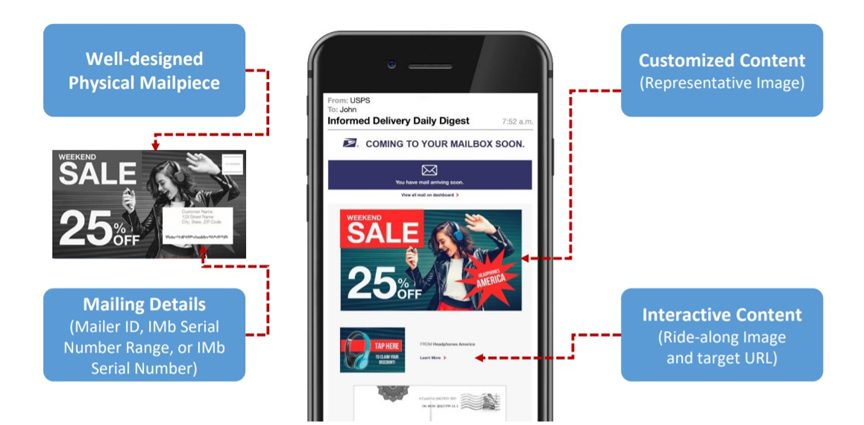 Now, let's go back to the benefits:
First, it provides an opportunity to increase brand impressions, without actually paying for them. The USPS doesn't charge marketers to create Informed Delivery campaigns, which means you can generate multiple touchpoints from a single mail piece.
Second, Informed Delivery allows your target audience to respond to your offer earlier – even if they're thousands of miles away from their mailbox. Although nothing can replace the tactile value of hardcopy mail, the USPS is trying to adapt to consumers digitally-driven lives, integrating even their physical mail into their daily digital routine.
Finally – and this is the holy grail of direct marketing – Informed Delivery can potentially create a lift in response, resulting in increased ROI (return-on-investment). It's proven time and again that response rates go up when marketers integrate print and digital strategies. By incorporating an engaging digital element into your direct mail strategy, you can enhance the overall effectiveness of your campaign, while tracking open rates and click-throughs to get an early read on campaign performance.
With Informed Delivery, you create and control a visual experience that serves as a responsive touchpoint with your mail piece. In a digitally-driven world, supporting your print mail with digital assets in your campaign can truly make a difference. This helps add a sense of legitimacy due to you having a strong presence in multiple outlets, digital and physical; and also creates anticipation for the piece to arrive.
To create a little excitement and incentive for marketers, the USPS is offering a 2% discount on postage for any Informed Delivery campaign mailed through November 30, 2020.
As a USPS Full-Service Certified Mail Service Provider and Business Alliance Partner, Hatteras can help you set-up an Informed Delivery campaign and answer any questions you have about postal discounts and eligible mail formats. This is such a critical time for direct mail marketing, and we are here to help your campaign be as impactful and successful as possible.
Contact your Hatteras sales representative, or
email us
today.