Hatteras was proud to make its exhibiting debut at LUXE PACK New York, which featured over 160 exhibitors and nearly 3,500 attendees at Jacob Javits Center on June 15-16, 2022. Known as the premier trade show for creative and custom packaging, the annual trade show reimagines branding solutions by fostering collaboration between packaging suppliers and brand professionals.
This year, novel packaging solutions and new partnerships were forged among the largest U.S. luxury and emerging brands in beauty and wellness, wine and spirits, fine foods, fragrance, fashion, pharmaceutical, CBD and other industries. Changing trends and powerful insights were shared in more than 17 workshops by leading industry experts, while innovations in sustainable packaging were discovered and celebrated.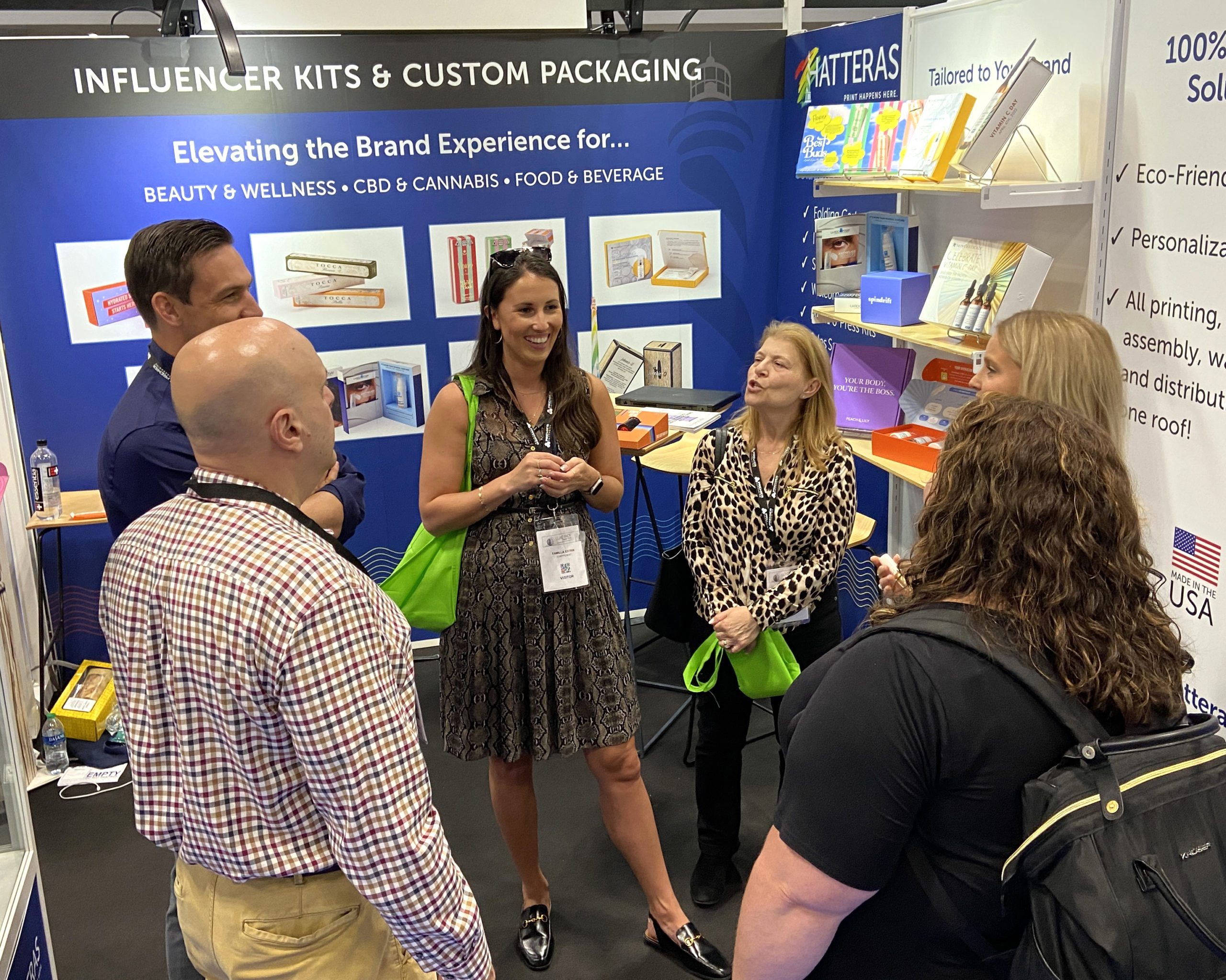 The Hatteras Trade Show Experience
Based on the traffic, energy, and buzzing atmosphere in the exhibit hall during the show, it's clear the packaging industry is stronger than ever. Professionals from startups to Fortune 500 companies alike were excited to exchange insights over market trends and connect over innovative packaging solutions. The Hatteras team was thrilled to showcase our custom solutions for influencer kits, product sampling kits and secondary packaging with the entire industry under one roof – while reconnecting with clients and meeting with new brands in the process.
Hatteras had the opportunity to participate in LUXE PACK's "Exploratorium," where exhibitors could spotlight a new packaging project or solution. This year we presented the visually distinctive Influencer and Media Kit we produced for De La Viuda Hot Sauce, featuring their 'original' and 'green pepper' hot sauces surrounded by their exotic branding. The kit's exterior includes elegant gold foil stamping of the company's logo and tagline, "The Art of Spice," a soft touch coating and a magnetic closure. The De La Viuda's product itself is a tribute to the legacy of sharing real spice and passion, and Hatteras was proud to contribute to this mission with a 100% custom promotional kit that spoke to Mexico's extensive, sophisticated, and spirited culture.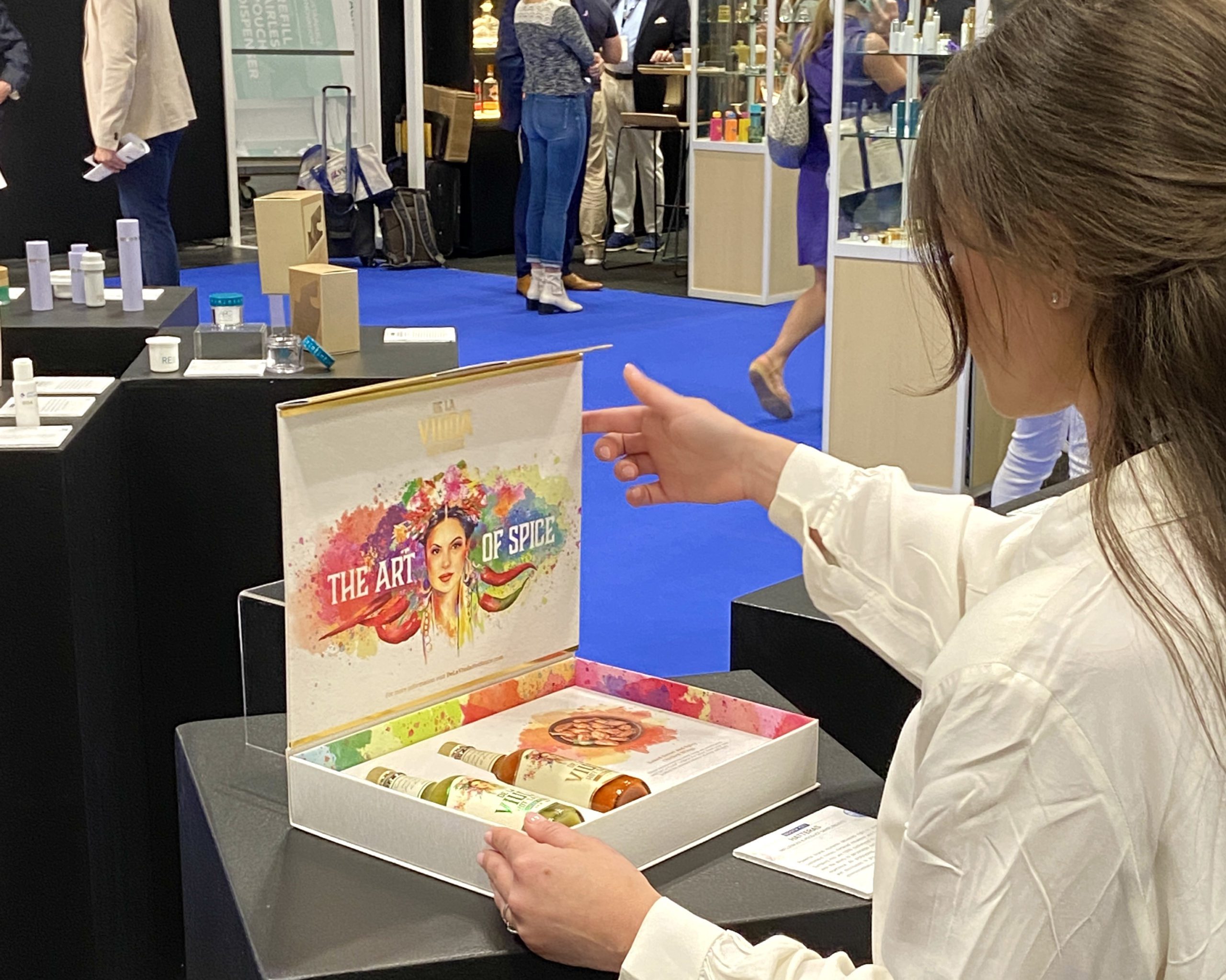 It was also gratifying to see the continued innovations and attention on sustainable packaging. Now in its 8th year, LUXE PACK'S 'in green' awards ceremony celebrates new sustainability initiatives while addressing the biggest concerns for both consumers and brands – including the use of plastics, environmental preservation, and transparency. As an advocate for green packaging solutions, Hatteras is excited to continue incorporating eco-friendly materials and processes into our packaging while being able to align with the sustainability goals of our clients and their customers.
Our Advancements in Printing and Secondary Packaging Technology
Hatteras has made several investments in recent years within our printing and bindery departments to position ourselves to offer best-in-class packaging solutions. With our expanded digital and offset printing, die-cutting and folding capabilities, secondary packaging was a natural next step in helping our clients create these powerful, branded touchpoints for their customers.
Our custom packaging solutions now range from influencer kits to folding cartons, gift sets to point-of-sale displays, and beyond. From prototyping to printing, assembly to distribution, we're proud to be a comprehensive partner to our clients while offering a hands-on, boutique style of service.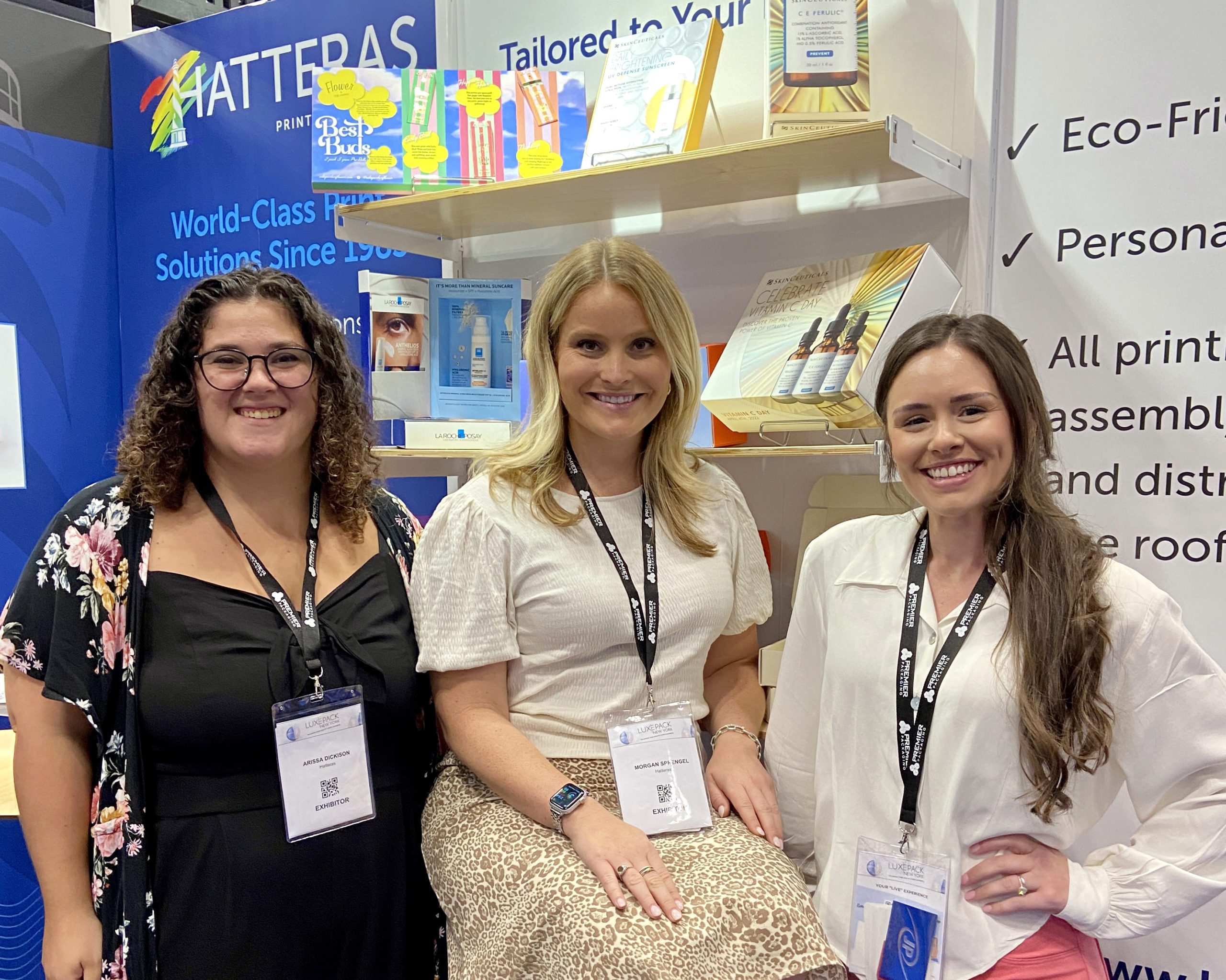 Come See Us!
Although LUXE PACK is over, we're always looking for opportunities to help new brands overcome challenges — from the concepting stage to the planning and production steps that follow. We welcome you to come see us at our Tinton Falls, NJ headquarters (an hour south of New York City) where you can see first-hand how we're bringing our clients' packaging concepts to life. Whether you are a brand focused on unique or traditional solutions, we'll help you determine the best fit while aligning with your budget.