First celebrated 50 years ago on April 22, 1970, Earth Day was founded by Wisconsin Senator, Gaylord Nelson, an environmentalist who sought to heighten awareness of the many threats to our nation's environment. Although we still face some of those same threats today, the printing and paper industries have been at the forefront of the sustainability movement and have made tremendous strides in creating a greener ecosystem within our industry.
For this 50th Anniversary of Earth Day, Hatteras created a direct mail piece titled: "Thank you notes from Mother Earth: A 50 Year Celebration of Earth Day and the Evolution of Sustainable Print." The concept was to create an engaging, dimensional mail piece that featured 'thank you notes' from Mother Earth highlighting some of our industry's green-based advancements. Each component, including glued-in thank you cards, was printed on a different environmentally friendly stock to showcase the wide variety of colors, textures and styles available for sustainable design. (Watch our video overview for more information about how this direct mail piece was constructed.)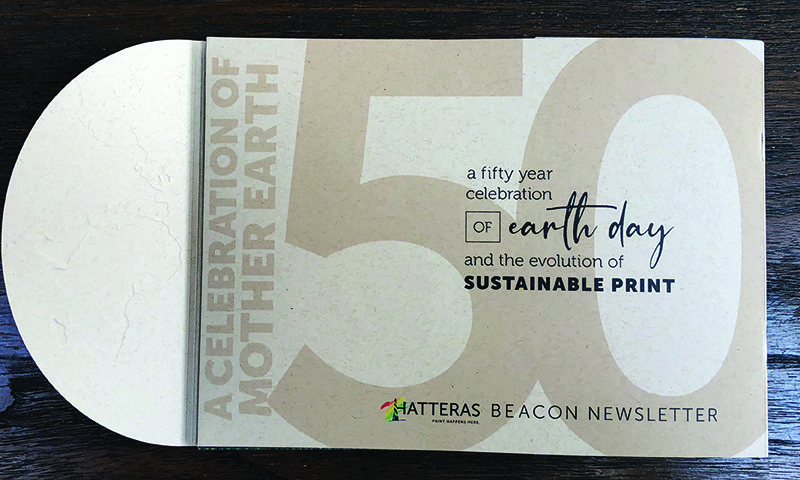 Below, to quote an excerpt from the mailing, are: "My thank you notes, my special mentions highlighting the many wonderful achievements that have been made to make the world more sustainable leading up to this 50th Anniversary of Earth Day…Love, your Mother Earth."
#1 Mother Earth is Thankful for: The Forest Stewardship Council
America is greener than ever…literally. According to the U.S. Forest Service, the net volume of trees on timberland has increased by 58% since 1953. This is due in part to the Forest Stewardship Council (FSC), which is the most trusted forest certification system in the world. The FSC helps consumers and industry professionals identify and purchase products from responsibly managed forests. They encourage landowners to conserve wildlife habitats, protect clean water, and respect the rights of Native peoples and local communities. To date, the FSC has protected more than 480 million acres worldwide.
#2 Mother Earth is Thankful for: The Evolution of Ink
Water and vegetable-based inks break down easier than petroleum-based inks, leading to a more efficient recycling process. Although it truly changed the world, The Gutenberg Press used inks that contained lead. Throughout modern history, petroleum-based inks that contain benzene and xylene were the norm. Since Earth Day was first celebrated, lead pollution has been reduced by 90%. Today renewable and sustainable vegetable-based inks are the standard and provide more vivid colors than petroleum-based oils.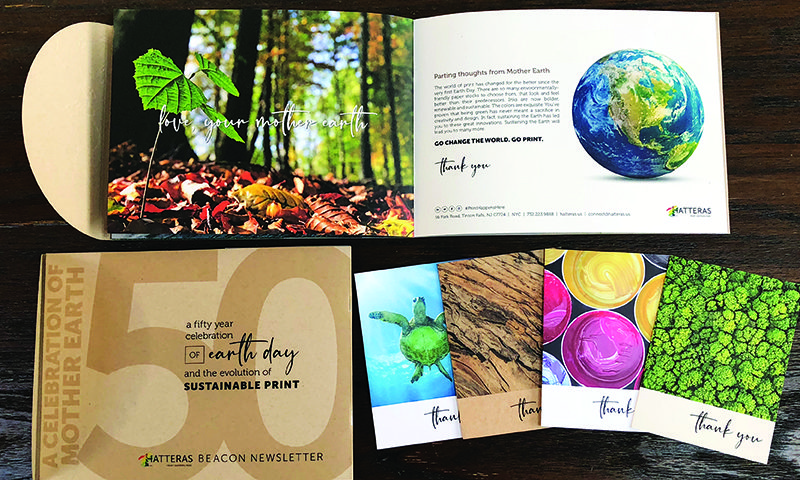 #3 Mother Earth is Thankful for: Energy Conservation
The forest products industry produces and uses more renewable energy than any other industry. Printing is now more fuel-efficient than ever, with an ever-decreasing carbon footprint. Over the last 50 years, U.S. pulp and paper mill fossil fuel consumption has been reduced by 50%. Currently, nearly 65% of the total energy used by North American pulp and paper manufacturers comes from renewable energy sources like biomass, biogas, and hydroelectricity. Many of our paper producers harness the wind to power their mills, making their paper carbon neutral.
#4 Mother Earth is Thankful for: Digital Printing
The benefits of digital printing have had a major, positive impact on sustainable printing, allowing marketers to be much more efficient and targeted with their campaigns while producing less waste. The set-up time on digital presses is very fast, which makes them well-suited for both short runs and long runs, and ideal for supporting print-on-demand programs. Plus, with the power of variable content available in many digital presses, marketers can create much more targeted, engaging communications which results in improved ROI.
In Conclusion
The world of print has made many significant improvements over the last 50 years. From responsibly managed forests, to more environmentally friendly inks and paper choices, to renewable energy powering our operations. We've proven that being green never means a sacrifice in creativity or strategy. Sustaining the Earth has led us to these great innovations. Sustaining the Earth will lead us to many more.
GO CHANGE THE WORLD. GO PRINT.
Hatteras is proudly committed to building a sustainable future, while providing high quality, eco-friendly printing solutions for our clients.
Let us help you explore sustainable options for your next print project.
connect@hatteras.us