Digital advertising is still the go-to medium for many marketers because of its simplicity and wide-range of personalization it provides. But with the rise of email and social marketing efforts, many consumers have become numb to digital advertising, and have even taken measures to remove ads from their view.
According to the Data and Marketing Association (DMA), email marketing has a less than 1% response rate, making it one of the least effective advertising channels. So, after several years of relying on digital marketing, marketers are now trying to cut through the digital noise by incorporating direct mail into the marketing mix – all while matching the same level of personalization that digital can offer – and are seeing big results.
How personal can you really get with direct mail?
The possibilities are endless. Advancements in digital printing technology have opened-up a world of opportunities for marketers to be much more flexible and personalized with their communications. By collecting better, more relevant customer data, marketers have the ability to marry this data (e.g. purchase history) with specific content (relevant imagery or offers) to create 100% uniquely personalized
direct mail communications.
Here's how you can use Dynamic Personalization in your next direct mail campaign.
Hatteras recently sent a personalized mailing to our clients, with each piece completely unique from the next, using dynamic personalization. Here's how we did it:
Photographs and graphic images are the elements noticed first by consumers since they are the easiest to absorb. So, having an image that truly connects with your customer is extremely important – but you can stand out even more by blending personalized information with relevant imagery.
Our idea was to create a personalized keepsake using a tri-fold self-mailer, die cut into the shape of a license plate. Each license plate was personalized with the recipient's last name, and matching to the state in their mailing address.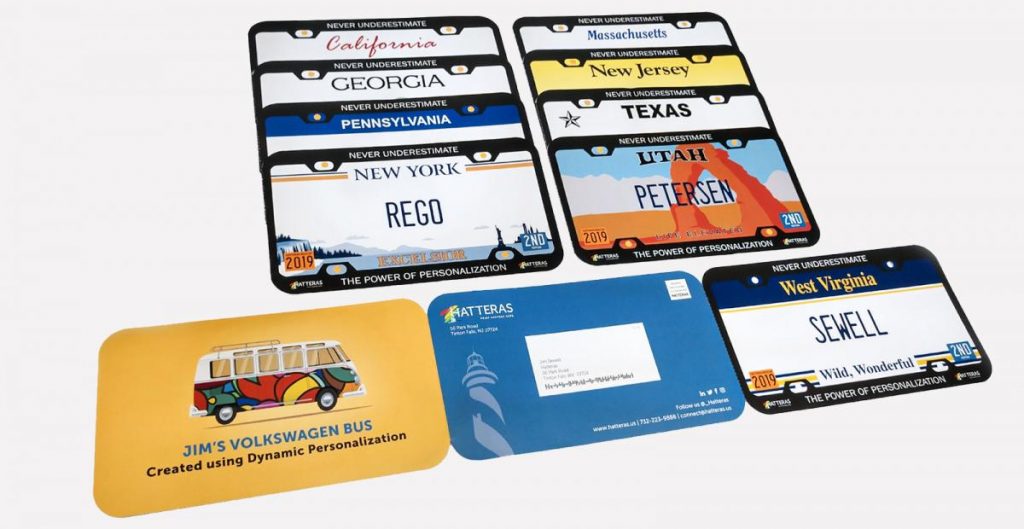 Taking our idea one step further – and keeping within the car theme – we also incorporated multivariate designs onto an image of a Volkswagen Bus, uniquely customizing the bus in each mailer. These designs were produced from one larger image using a proprietary application that combines, scales, transposes and rotates the pattern to create limitless variations – giving each recipient their very own VW bus. Pretty cool, huh?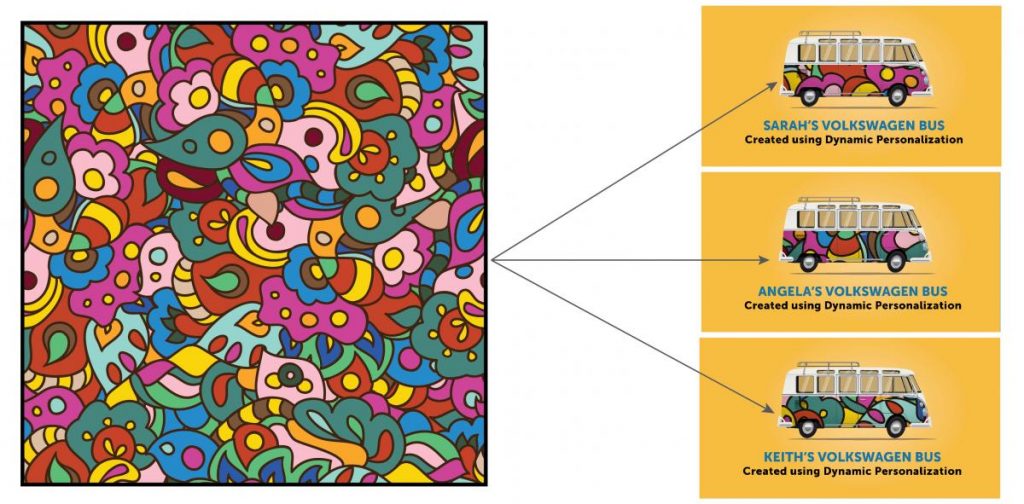 Lastly, we wanted this mailer to connect on a one-to-one basis with our clients, so we incorporated other dynamic content, such as the recipient's first name, state name, as well as contact information for their Hatteras Sales Representative in case they had any questions.
Hatteras produced thousands of mailers that were uniquely printed on one of our HP Indigo Digital Presses, die cut, and mailed, all under one roof. We couldn't be more pleased with the tremendous response we've received from our clients. Only with the power of variable digital printing could this level of personalization be achieved.