Most marketers know that consumers have come to expect more personalized experiences around the brands they choose to engage with. In a time when consumers are bombarded with hundreds to thousands of messages per day, today's marketing needs to break through the clutter and resonate with consumers on a more personal level in order to more effectively attract and retain their business.
According to studies by the Data & Marketing Association (DMA), targeting customers on a 1-to-1 level increases response rates by up to 50% or more. But executing a large, personalized direct mail campaign that needs to get into market quickly may seem like a daunting task to some marketers.
This is where introducing variable content into your direct mail program can allow you to create highly targeted communications and transform your one-size-fits-all strategy into a personalized message for each individual.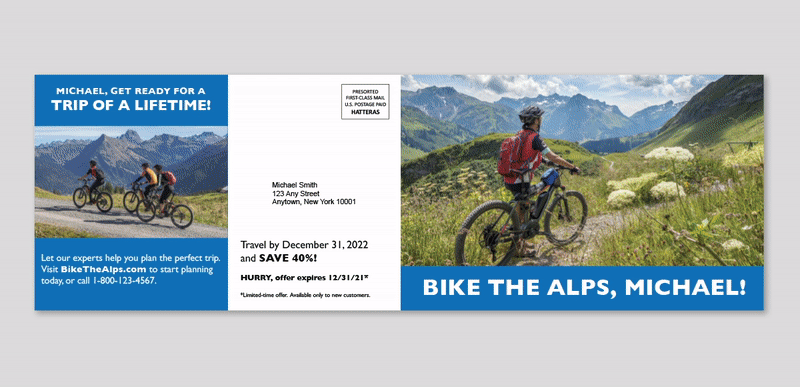 What is Variable Data?
Variable Data Printing is an automated personalization technique that uses information collected from marketing lists, CRM's and other sources to personalize each piece through the digital printing process. Pre-defined image and text areas of each mailpiece are populated with different combinations of content that's pulled from the marketer's database. Imagery is supplied to the printer in the form of an asset library and mapped to each individual, so that it outputs as each piece prints, instead of treating each mailer "version" as its own separate print run.
This provides marketers with the unique ability to personalize each piece to every recipient – whether it's going to one hundred or one million people – within a single, streamlined printing process. The result is a mass-produced but completely customized, highly targeted and relevant message that is more likely to convert, and in turn, increase ROI.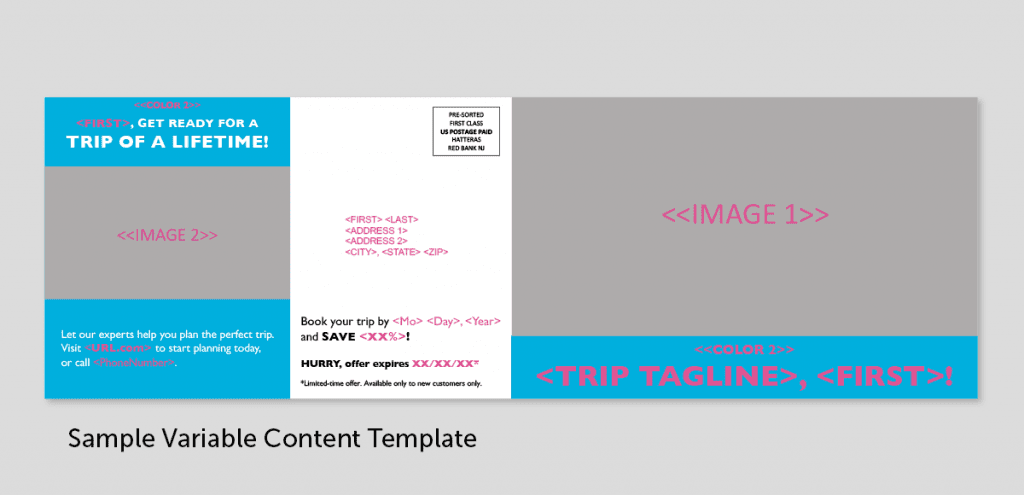 According to Canon Solutions America, simply adding a person's name and full color can increase response by up to 135%, and more sophisticated database information can increase the response rate by up to 500% versus not doing any of these things.
For example, consider how you feel and react to a letter addressed "Current Resident" compared to a letter addressed with your name. You're much more likely to open the one directed to you, right? It's no surprise that seeing your name grabs your attention, but the power of variable content goes well beyond just your name or personalized text. Visuals and messaging are added based on an array of factors and customer insights, so the content more directly appeals to their interests, wants, and needs of each person.
Does Variable Data Make Sense for MY Business?
If you're wondering if variable content would work for your business, the answer is most likely yes! Nearly any industry can leverage the power of variable content in their direct marketing strategy. Some examples include:
A Fashion Retailer
can use customers' previous online engagement with the brand or in-store purchase history to feature imagery and descriptions of other products they are likely to be interested in.
A Real Estate Company
can use geographic data to include local agents' information and homes sold in specific regions to target homeowners in the corresponding region.
A Utilities Company
can present unique products and offers based on service history.
An Automotive Company
can incorporate images of each owner's specific car model, and show maps of the closest locations for service.
Variable content can also complement existing marketing efforts to further strengthen the message and results. To pair with digital marketing, a variable content mailer can feature a specific online coupon code or a QR code that directs to a customized landing page. Or, you can leverage the power of time and automation by incorporating variable content into a trigger mail campaign. Trigger mailings create impact by sending the personalized message at the right time, whether it is a follow up to previous correspondence, check-in on a yearly renewal, launching a new product, or other time-sensitive events.
The possibilities variable content presents to marketers are endless! With successful experience creating impactful and engaging direct mail campaigns, Hatteras is here to help you build variable content into your next campaign.
Reach out to learn more
and see some examples.