Leverage the power of timing, personalization and automation to boost your company's sales.
Savvy marketers know that two of the biggest drivers of a successful marketing campaign are timing and relevance. That is, getting the right message at the right time into the hands of your target audience. When you apply these tactics to an ongoing, scheduled sequence of mailings, you have the foundation for a trigger mailing program.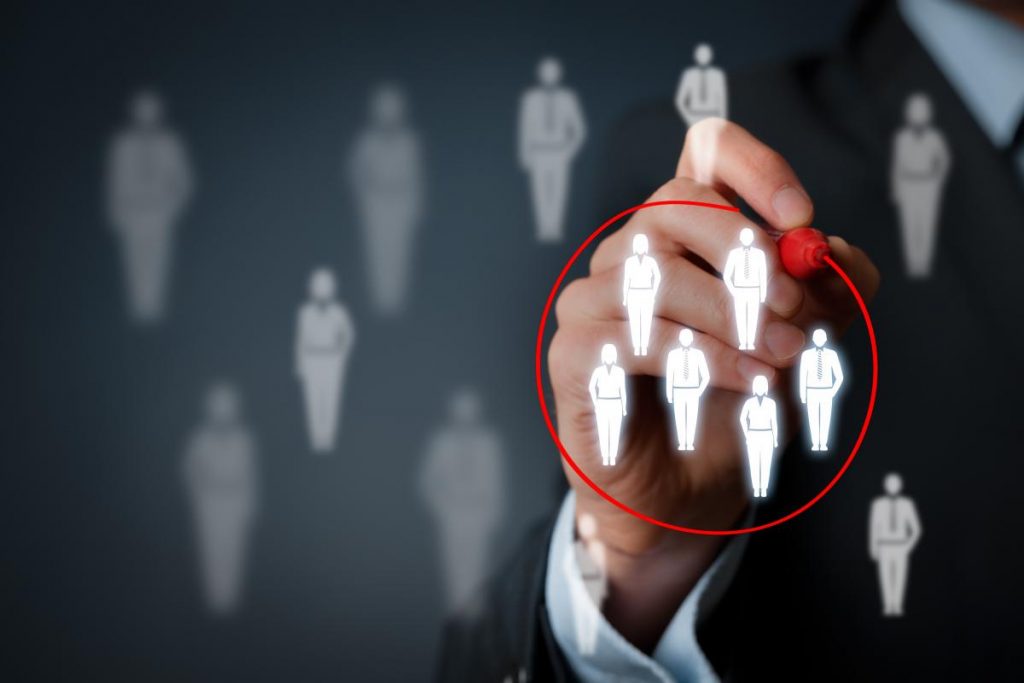 What exactly is a Trigger Mailing?
A trigger mailing is a highly targeted direct mail communication sent to someone following a particular "event" or behavior, or based on a specific set of rules. Similar to trigger emails that are driven by events such as signing up for a newsletter or making an online purchase, a trigger mailing functions the same way but with the potential to create a more powerful brand moment, especially when combining the tactile experience of a physical mail piece with the level of personalization that's possible with today's printing technology. Trigger mailings are usually designed to be an ongoing, automated mailing program and often have a specific, measurable call-to-action.
With more insight into our customers and prospects than we've ever collected before, we have the opportunity to create highly personalized marketing messages that help to maximize engagement and drive sales. It's likely one of the reasons that direct mail is still the workhouse in a marketer's tool kit, with response rates averaging 9% for house lists and 4.9% for prospect lists, according to the DMA's (Data & Marketing Association) most recent published report (source: ANA/DMA Response Rate Report 2018). While email is a fast and inexpensive way to communicate with people, direct mail's performance leaves email's response rate in the dust, which averages 1% (according to the report). What this means is that trigger mailings can capitalize on the strength of direct mail's performance to make a significant impact on a company's sales.
Benefits of Trigger Mailings
Trigger mailings essentially combine all of the key characteristics of a high-performing direct marketing campaign, with the addition of automation.
It's timely. Mailings can be received within just a couple days of a trigger event.
It's personalized. You can combine personalized information with unique imagery to create a truly one-to-one communication.
It's memorable. Receiving a dynamic, personalized mailing makes people feel special.
It's flexible. You can test different messages, creatives, and offers, optimizing your way to producing even greater results.
It's automated. Once the program is set up, mailings can be planned weeks or even months out, so you can just focus on tracking the results and tweaking your strategy as you go.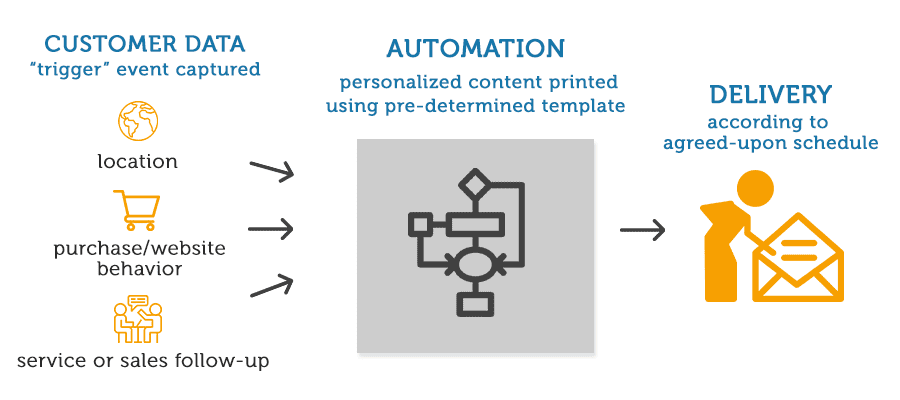 Common Examples of Trigger Mailings
The applications for trigger mailings in both B2B and B2C marketing are virtually limitless. But here's a few examples:
RETAILERS sending a special offer to customers based on their behavior or purchase history. This could include recent purchases, abandoned shopping carts, new customers, or lapsed customers.
PHARMACEUTICAL SALES TEAMS sending mailings to physicians following a meeting with a salesperson. With today's limited face-to-face interaction, direct mail provides a great touch point for keeping your brand top-of-mind with physicians.
FINANCIAL SERVICE FIRMS sending a fun, dimensional mail piece to a business with a service renewal date approaching, that includes a special offer to agree to a meeting or sign up for a new service.
AUTOMOTIVE BRANDS sending a mailing following a new or pre-owned car purchase, or following a service appointment that includes personalized details on the customer's car and service needs, with an offer to schedule a new appointment.
REAL ESTATE COMPANIES sending a mailing to a local, targeted audience announcing the sale of a nearby home, or sending a personalized message to your customers on their birthdays or home closing anniversaries.
The list goes on and on….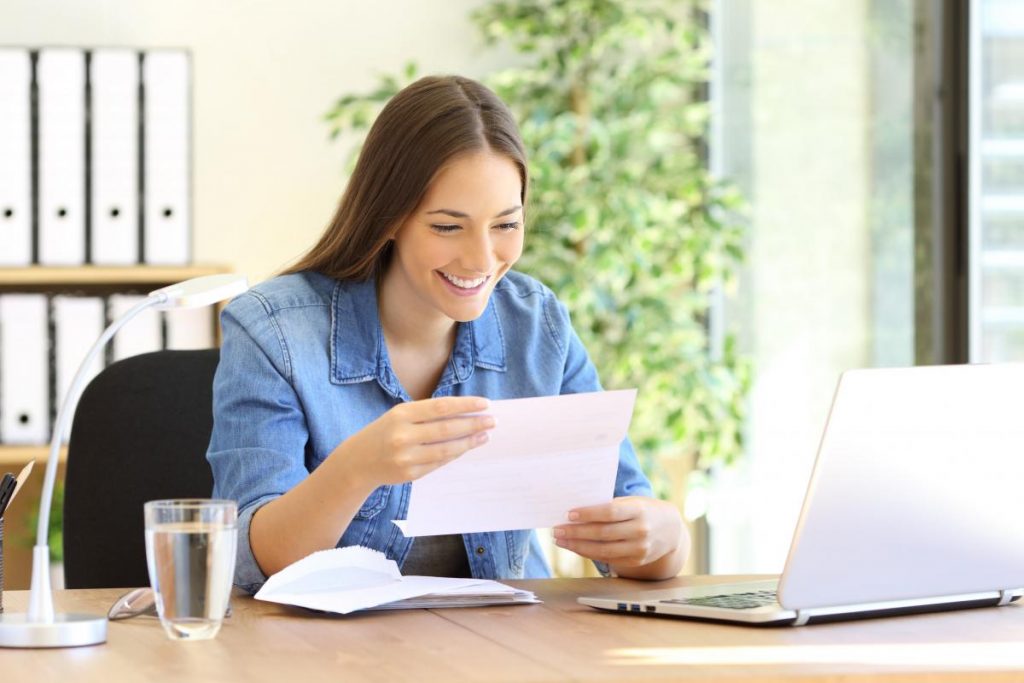 So where do I start?
It takes some careful planning, but once it's set up, a trigger mailing program can produce some truly powerful – and predictable – results. Below are some key considerations when planning a trigger mailing program.
Define your goals. A well-planned marketing campaign should always start at the end, by identifying what goals you're looking to achieve, and the key metrics you'll be measuring including a clear call-to-action.
Know your data. Understanding how you segment your customers according to different demographics, purchase history or other attributes will determine the tailored messaging strategies you can use.
Get Personal. The more relevant and targeted your marketing, the greater chance for success. Using the variable data technology that exists with today's digital printing, you can combine both text and custom imagery for each recipient to create highly personalized, one-to-one communications.
Select a Format. There are many different direct mail formats. Whether you choose a standard letter + envelope format, an oversized postcard, a mini-booklet self-mailer or a dimensional mail piece will depend on your budget, your brand, and the type of message you'd like to communicate.
It's All About Timing. The faster you can get your message into the hands of your target audience following the 'trigger' event, the better. Work with your print services provider on establishing a workflow and defined turnaround time between data hand-off and mail drop.
The opportunities and applications for trigger mailings are endless. With decades of combined experience developing highly customized trigger programs for a wide range of consumer and B2B brands, Hatteras' Solution Team can walk you through all the possibilities and help you create a program that's right for your business and marketing goals.
To learn more, email us at
connect@hatteras.us.