Selecting the Perfect Packaging Substrate
Selecting the right substrate is highly important for skin care brands. There exists a touch element to your product, and the packaging should complement that. Your packaging is an opportunity to highlight the essence of the brand and accent the attributes of your product. It's worth considering how the substrate will look and feel. Maybe you use a soft touch coating, or maybe for earthy brands you utilize a natural paper texture.
How Can We Make Skin Care Packaging More Sustainable?
More and more, customers are turning to beauty products they can feel good about. From cleansers to moisturizers, eye cream, serum, oils, sunscreen, and other skin care products, consumers are increasingly looking for products that are clean, made of natural ingredients, are cruelty free, non-toxic, chemical free, and hold key safety certifications. Skin care packaging plays a massive role in connecting with customers. Beyond communicating essential product features, 100% recyclable paperboard packaging proves your commitment to more sustainable packaging solutions.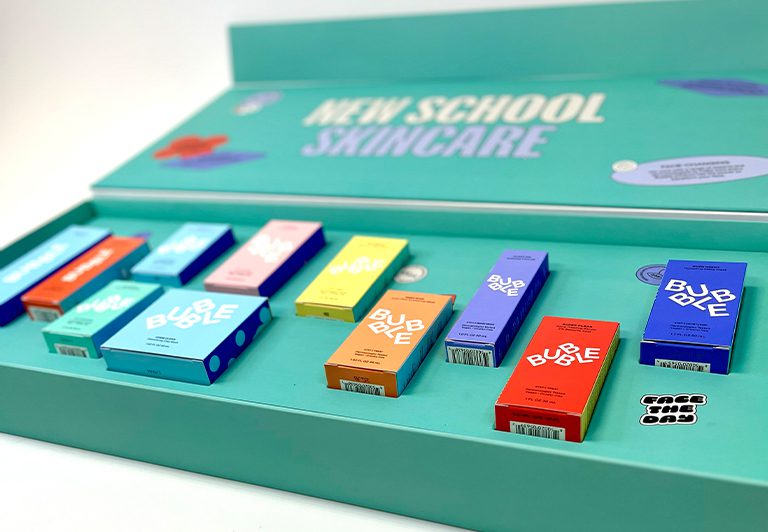 The reality is, the beauty industry is responsible for producing more than 120 billion units of packaging, much of which is plastic and not truly recyclable. The more complex the packaging, the harder it is to collect, separate and recycle. Traditionally, extravagant and glossy packaging represented luxury, but excess packaging now represents waste — and can actually be a customer deterrent. This has led to a major shift as more cosmetic companies are making a larger commitment to sustainability at the production level and implementing reusable, recyclable and compostable materials.
There is no better time to search for more sustainable skin care packaging solutions. When developing your next sustainability program, stay on top of a few key packaging trends.
Already know your next eco-friendly skin care packaging initiative? Let us know how we can help.
Less Plastic Skin Care Packaging is More
For beauty companies promoting organic skin care products, excessive plastic usage may come across as disingenuous to consumers. Paperboard, on the other hand, has widely been accepted as a clean alternative. It can be sourced from sustainable, renewable forests certified by the Forest Stewardship Council (FSC), recycled, and made without chemicals.
Lightweight, easily recyclable, and biodegradable, there remains a number of reasons why eco-conscious brands prefer sustainable folding cartons to conventional plastic packaging for products sold in physical and online stores. Vibrant colors, high impact designs, and a premium look and feel are all achievable using paper-based secondary packaging which remains a great way for brands to display skin care products and create a memorable experience.
If you must continue using plastic packaging, avoid wasteful packaging and consider promoting beauty and skin care products in larger containers. Single-serve pouches, alternatively, result in a lot more plastic waste. Consider keeping an eye out for innovative packaging solutions that are underway, like solutions derived from seaweed or mushrooms.
Switch to On Demand Print
By printing on demand, you are ensuring that you only print what you need, as you need it, and that old products don't sit unused and lost in inventory. When old packaging inventory is thrown away, not only are you wasting your own time and resources, but you are wasting the materials and energy put into their production. At Hatteras, our on demand and digital print offerings put you at a great advantage when it comes to shrinking your environmental footprint.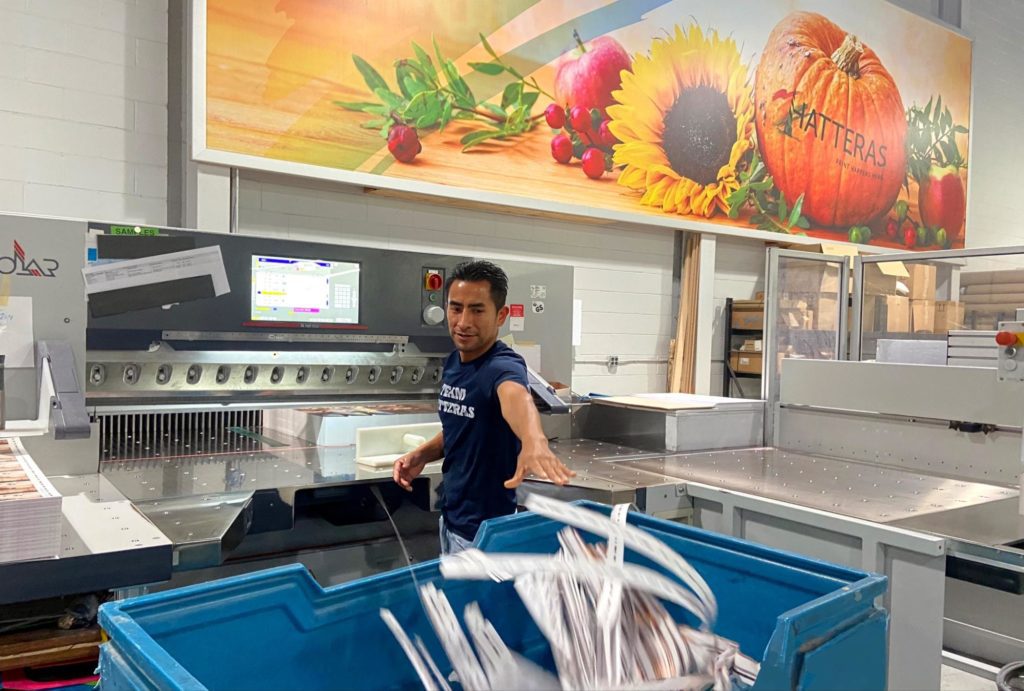 Improved Circularity with Closed Loop Manufacturing
Rather than a straight line from materials to production, purchase, and then to a landfill, the circular economy ensures beauty products aren't used only once. With processes like recycling, these materials can be remade into something new, ensuring the circle goes around. When a product or item has served its purpose, it can be transformed and used again. Today, however, only a small percentage of skin care packaging gets recycled. To capture and manage waste, beauty brands are working to find innovative solutions. Smart QR code solutions, for example, can be applied to packaging for enhanced usage and recycling instructions.
Consider Refillable Primary Skin Care Containers
Due to rising demand, beauty brands are testing paper-based tubes and implementing refillable primary containers made of glass and aluminum. Whether you prefer a subscription model for refillable products or in-store refillable devices, the refill revolution is underway. As consumers begin to pick up this eco-friendly habit, your brand might find it needs to quickly adapt.
Trust a Packaging Supplier with Verified Eco-Friendly Certifications and Innovative Initiatives
Cosmetic and skin care packaging waste remains a huge issue. Most of the waste in the beauty and personal care industry comes from packaging, which almost always ends up in landfills or otherwise back in our environment. Fortunately, there are ways to create cosmetics and personal care products while reducing our plastic footprint.
Ultimately, sustainable skin care packaging benefits from being made with 100% recyclable or natural materials, smaller packaging, zero-waste solutions, and a well managed supply chain. At Hatteras, our print and packaging solutions are environmentally responsible, Sustainable Green Printing Partnership (SGP) Certified, sourced from FSC Certified forests, and manufactured using 100% renewable energy.
Level up your skin care packaging with environmentally friendly solutions today.