As one of the first meaningful interactions your customers have with your products, your packaging is an essential element in your branding strategy. With the increasing prevalence of e-commerce and the prevalence of new brands, it's never been more important to make sure that your packaging is eye-catching, memorable, and reflective of your brand values. That's where packaging sleeves come in.
Packaging sleeves are a cost-effective and creative way to add a touch of sophistication to your products. Designed to fit over the primary packaging or to act as stand-alone packaging (think hand-crafted artisan soap bars), packaging sleeves can be customized to engage your customers through visual appeal. There are nearly endless customization options that can enhance the unboxing experience, support targeted campaigns, and provide you with the space to communicate your brand story and values.
How Packaging Sleeves Can Enhance Product Branding
Packaging Sleeves Provide an Eye-Catching, Upscale Look
A common statistic in the marketing world is that 93% of consumers are heavily influenced by what a product looks like when making a purchasing decision. These days, that goes for both in-store and e-commerce brands, so designing your packaging to stand out both on and off the screen is essential.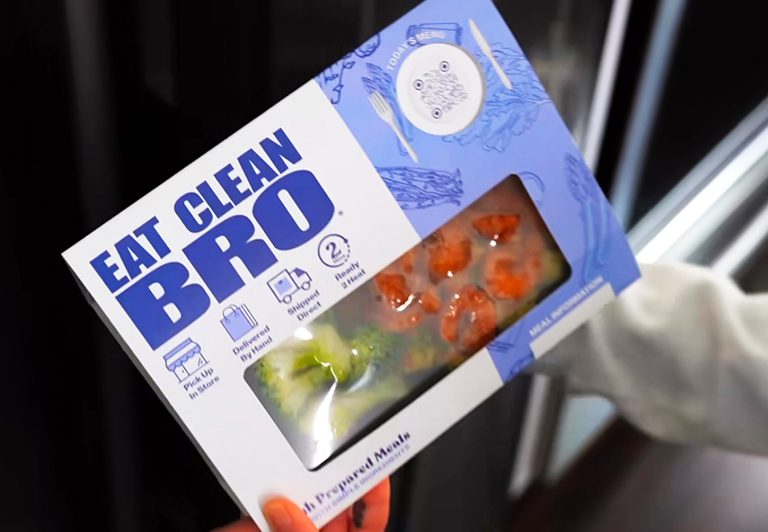 Packaging sleeves are an excellent way to make that good first impression. Including your logo helps your customers recognize your products right away, and incorporating unique elements such as brand-specific fonts, graphics, or handcrafted artwork with custom printing services can help you create a feel that is consistent and identifiable at a glance.
Packaging sleeves are also the perfect opportunity to take advantage of finishing and coating options. By adding details such as foil accents or soft-touch coatings, you can create a look and feel that is completely unique to your brand and, as a result, memorable for the customer.
Packaging Sleeves Can Be Designed to Enhance the Consumer Experience
In our fast-paced world, it's always a good idea to make the lives of your customers a little easier.
At Hatteras, this was a top priority when designing packaging sleeves for one of our partners, Eat Clean Bro, a provider of fresh-packaged meals crafted to meet a variety of dietary needs in the New Jersey area. For them, brand identity and ease of use were top priorities.
In this case, packaging sleeves provided a level of elegance and simplicity that their customers were looking for. For single-serve packaging on food items especially, sleeves remain an excellent way to maintain your brand's visibility while allowing for easy access to the product.
You can also utilize the space provided by packaging sleeves to either include product instructions or information or to add some relevant brand messaging that can result in deeper relationships with your customers.
For instance, research has shown that 82% of consumers prefer to buy from brands that are aligned with their personal values. By printing your values and brand story directly onto the packaging sleeves, you're not only creating an experience that allows your customers to feel good about purchasing your products, but you're also starting a conversation with them about topics that they care about.
In this way, you can make that difficult transition from a "faceless company" to a brand that is a trusted friend and ally.
Customize Your Packaging Sleeves with Seasonal Promotions
Switching up your packaging throughout the year while maintaining your core identity can help your brand feel more relevant and human.
With print-on-demand services, packaging sleeves can be easily customized regularly to reflect seasonal changes, holidays, days of importance, or other special events throughout the year. With timely design and marketing portrayed directly on your product packaging, you can more easily connect with niched segments of your customer base or bring in new customers with targeted campaigns.
Making responsive design changes to your packaging sleeves, while still maintaining a core look and brand identity, can do a lot to make your customers feel like your attention is on more than just making sales.
Packaging Sleeves are Eco-friendly When You Choose the Right Packaging Partner
In a world where environmentally sound business practices are becoming more vital every day, sustainable packaging is a must.
Packaging sleeves are inherently more cost-effective and eco-friendly because they use less material and are made from recyclable paper. With less complexity in shape and function, the production of sleeves also requires less energy usage.
At Hatteras, we place sustainability at the forefront of everything we do. From dedicating ourselves to using only wind energy to investing in eco-friendly print technology, you can rest assured that the sustainability promises you make to your consumers will be reflected in the packaging sleeves themselves.
Choose a Packaging Partner that Cares About Your Brand as Much as You Do
At Hatteras, we can provide a fully tailored-for-you experience when designing and crafting your packaging. From ideation and prototyping to production and shipping, our team of print professionals will ensure that your packaging reflects your brand with style and acute attention to detail.
Get in touch today to see what we can do for your brand.